The sound of Couscous, an impression of a sound table that is used in live performances. One of the used objects is a plexiglass plate equipped with some contact mics, which makes it a kind of amplifier for all kinds of tiny materials, like couscous.

All performances with this table are improvisations. These can be solo, but also in combination with other artists. It even gives the audience the opportunity to participate in creating sounds, which is something especially kids love to do.
Windorgan at Vlissingen boulevard, a field recording for which 7 microphones have been used at several spots and mixed into a stereo soundscape.

The recording was made together with German sound artist Nils Mosh, and used for online publication.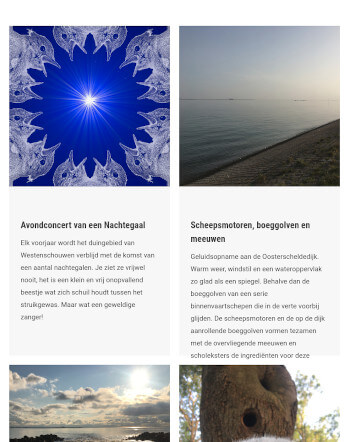 The Sound of Zeeland, an online collection of field recordings and soundscapes that are typical for Zeeland, the province where Roger lives.

You can find this collection on his (dutch) weblog, hetgeluidvanzeeland.nl